Secrets of Cape Town and Stellenbosch
7-day city break Fair Trade Holiday South Africa
Explore the best-kept secrets of Cape Town and Stellenbosch. Cape Town, the Mother City, is rife with unexplored nooks and crannies, full of undiscovered treasures and new ways to learn about life in and around one of the most beautiful cities in the world. Visit Cape of Good Hope is a classic side car and make a wine-safari by jeep up the mountains of Constantia Wine Valley. Discover the winelands around Stellenbosch through a beer tour. Find out why one week is barely enough for this exciting city break!
The oldest city of South Africa
Cape Town is the oldest city in Africa, steeped in history and liberally sprinkled with hidden gems. You'll uncover its highlights in a different way. See Table Mountain – from the deck of yacht during a champagne cruise. Escape the crowds by going down the slopes of Table Mountain on a gravity-propelled scooter. Cook your own lunch in the Bo-Kaap, an eyepopping kaleidoscope of brightly coloured houses, spice shops and mosques, smothered in a thick layer of Cape Malay tradition. Cycle on a water bike between penguins and ride in side car over the endless winding roads to the Cape of Good Hope. Or choose one of the other optional excursions, all designed to let you discover Cape Town in a new and exciting way.
Much more than wine in Stellenbosch
Then it's time to discover South Africa's winelands in a completely new way. It's not all wine that is available. The winelands are much more than that! Culture, heritage, nature, mystery, excellent food, fine dining, cycling, unique experiences and many craft beer breweries.
Staying in Stellenbosch, the second oldest settlement in South Africa after Cape Town, you will explore this town in a unique and captivating way. History, walking, and cycling but of course also eating and beer tasting are the experiences waiting for you.
From Stellenbosch we take you out to the West Coast and Darling for more intriguing, special and mind-blowing experiences.
Certified Fair Trade Holiday
We are proud to officially label this tour as a certified Fair Trade Holiday: the Cape Town overnights and !Kwa ttu are Fair Trade Certified and standard included in the tour. Since these comprise well over 50% of the tour and since we are Fair Trade Tourism approved ourselves, we have obtained the Fair Trade Holiday stamp for this tour. Want to know more? Read about Fair Trade tourism on their website and about our sustainability policy here. 
Highlights of the secrets of Cape Town and Stellenbosch tour
Slow travel city break
Certified Fair Trade Holiday
4 nights in Fair Trade certified hotel in Cape Town
3 nights in historic centre of Stellenbosch
Learn about San culture in the Fair Trade certified !Khwa ttu San heritage centre
Community visit with Fair Trade certified Uthando operator
Visit South Africa's only carbon neutral craft brewery
Champagne cruise and the Zeitz Museum at the V&A Waterfront
Scootour on Table Mountain
Malay cooking class in a Bo-Kaap house
Go gin-tasting in the secret Gin Bar
Visit the penguins in Simonstown on water bike
Ride the winding roads to Cape Point in an historic side car
Make an unique wine safari by jeep in Constantia valley
Walk across the top of Table Mountain or choose one of the many other excursions
Visit an 18th century historical building at the heart of Stellenbosch's vibrant cultural district which is home to a collective of diverse merchants, each passionate about their craft.
Discover the craft beers on a working farm in Stellenbosch
Learn about sustainable beermaking processes
Get a bike from the Stellenbosch Trail fund and explore the Eerste River trail
Walking tour where culture and food connect
Get an insider's perspective on the outdoor art exhibition
Indulge in a sensory gin experience which includes a visit to the University Botanical Gardens
Sip a liquid 'dessert' at an innovative coffee laboratory
Visit Darling with a collection of some of the West Coasts finest art, landscapes, wine, beer, food and activities.
Discover that the more you know, the less you need
Exclusive bespoke and flexible experiences
The secrets of Cape Town and Stellenbosch tour in detail
Your comfortable guesthouse in Sea Point is close to restaurants, bars and other facilities. The guesthouse is Fair Trade certified and you will find this back in all the small details that make your stay more than just a hotel overnight. After settling in, get your first taste of the city when going on a sunset champagne cruise. Stunning views of the city sprawled at the foot of Table Mountain and the spectacular sunset in the Atlantic Ocean make this a treat you won't easily forget.
You'll see Cape Town's highlights, but you'll see it from a very different angle. Start the day with a scootour, riding down Table Mountain in a completely clean self-propelled way. Gravity does all the work and you only need to break where necessary. Look down on Cape Town and the colourful Bo-Kaap, which you will explore afterwards.
Eyepopping kaleidoscope
The Bo-Kaap is an eyepopping kaleidoscope of brightly coloured houses, spice shops and mosques, smothered in a thick layer of Cape Malay tradition. Your host will take you to the most scenic spots in the Bo-Kaap, ending up at her home. There she will initiate you into the secrets of the famous Cape Malay cuisine. She'll teach you hands-on how to make delicacies like samosas, a curry, naans, and a sambal. You are in effect cooking your own lunch… and you get her secret recipes to take home.
After this delicious lunch you visit the incredible Zeitz Museum of Contemporary Art Africa, in short Zeitz Mocaa. An old grain silo in the Victoria Waterfront has been transformed into one of the must-see museums of the world. A mix of rotating temporaray collections, the permanent art work and incredible views of the harbor, town and Table Mountain makes for a wonderful afternoon.
The long and winding road to the Cape
The Cape of Good Hope must be the world's most famous cape. This is the most south western point of Africa. Here the famous Flying Dutchman harassed ships of old that rounded the Cape on their way to the far East. There are many ways to explore the Cape by car, but why not step outside the normal boundaries and make it an unforgettable experience by going by water bike and sidecar?
On the way to the Cape, Simonstown is famous for its penguins. Unlikely as it may seem, thanks to the cold Antarctic water penguins thrive here. Simonstown has one of the largest colonies and they live in the town itself. Go out on the water on a water bike and pedal past seals and penguins in their natural habitat, going in and out of the sea. And no, you don't need to be a sports fanatic to enjoy this leisurely paddle.
The winding roads to the Cape Point are made for motorbikes, and a sidecar ride for the rest of the day adds a lot to the fun. Each motorbike comes with a driver/guide and all the gear you need to look like a black-and-white movie star. You'll ride past all famous landmarks, including Cape Point National Park, the Cape of Good Hope itself, the lighthouses and of course Chapman's Peak Drive. This was recently voted (again) as one of the most beautiful coastal roads in the world.
Don't want a side car ride? You can do all of this in your own car or with a private guided chauffeur-driven excursion too.
Explore the Mother City – your way
Your last day in Cape Town is free for you to fill in with whatever you like. Cape Town is amazing and there is so much to do and to see that the choice will be hard. You'd need at least another week to do it all, so let's help you by giving you some of our own favorite secrets of Cape Town and Stellenbosch. Like what you see? We'll happily assist you with booking any of these options.
Like walking? The most beautiful walk you can do starts in the botanical gardens of Kirstenbosch and takes you across the Table Mountain to the cable car. Once on top you walk along the edge of Table Mountain with stunning views of the Cape Flats. You then cross the mountain to the other side where the cable car station is. Despite its name and the way it looks from afar, the mountain is definitely not flat on top. Sloping hills, gorges and steep climbs crisscross the mountain, making it a beautiful traverse. We offer this only as a guided walk.
Do you prefer street art and township culture? Then spend a day starting with the street art tour in fashionable Woodstock and Salt River. Here are over 120 street art murals and graffiti paintings. Artists from South Africa and around the world adorned the facades of over 120 buildings in an extraordinary display of artistic self-expression and empowering messaging. After this you are transferred to one of the townships where Uthando (meaning love) is operating. All township tours are aimed at showing the positive developments in a township, not poverty tourism. Your visit actively helps, inspires and supports the people living there. You'll be pleasantly surprised by the extremely friendly reception you'll get and the many chats and laughs you will share with the people living there.
Most unique experience
The most unique experience you can do in Cape Town is also the most unexpected: a wine safari in a 4×4 safari vehicle. A unique wine valley tasting experience in the heart of Cape Town. This is truly unique and different from main stream tourism. Travel on a converted Game Viewing vehicle in a fun way up the mountains of the Constantia Winelands. Here you'll park in a beautiful viewpoint where we will setup a wine tasting you can't find anywhere in the world! Choose between afternoon or sunset options.
Here are some further suggestions for you:
Descend from Signal Hill hanging from a paraglider for an exhilarating view of the city from the air.
Make a helicopter flight over the city or even all the way to Cape Point.
On Saturday or Sunday morning, visit the amazing Oranjezicht farm market for great vibes, great music and great foodstalls.
Go shopping in the old harbour district of the V&A Waterfront, where a working harbour is incorporated in a host of shops, restaurants, bars and great views.
Visit the Two Oceans aquarium, not only one of the best aquaria in the world but also deeply involved in rescuing ocean animals, teaching school kids about Ocean life. It is not for nothing Fair Trade Tourism certified.
Beer and bicycles in the wine town
After the secrets of Cape Town it's time to move to the secrets of Stellenbosch. A first discovery of the historic town with a lunch of delectable specialty meats, crepes, baked goods, craft beer, coffee, fresh Saldanha Bay oysters. Situated at a cherished 18th century historical building at the heart Stellenbosch's vibrant cultural district, it gives home to a collective of diverse merchants, each passionate about their craft.
Visit a brewery on a working farm and learn all about the beer making processes which are still done by hand here.
Explore one of the cycle trails around Stellenbosch. Rental of the bikes is done by a fund that contributes to the local community.
Uncover more intriguing stories of Stellenbosch during a guided tour and connect with talented food artisans and artists/ crafters and get an insider's perspective on the outdoor art exhibition in Stellenbosch. But most of all, indulge in the amazing food Stellenbosch and the region has to offer by making sweet and savory tasting stops. Samples of Stellenbosch craft beers is of course also on the menu!
Khoisan heritage
Transfer from the accommodation to !Khwa ttu San Culture & Education Centre . This offers you a unique opportunity to experience and learn more about the San culture and heritage. Take a through a guided tour, a cultural display and even a language session with qualified San guides. They tell you all about how they are hunter gatherers and know all about the land, the plants, the animals and the elements. They not only understood how to live but how to live well. A people that thrived!
Our Darling: a carbon neutral brewery
Continue to the picturesque town of Darling that transformed from an 18th century farming community into the Darling we are familiar with today: a town hosting some of the West Coasts finest festivals, performances, art, landscapes, wine, beer, food and activities.
You won't get hungry in Darling and you won't go thirsty. Sit back, raise your glass and enjoy everything this quaint town has to offer.
Of course, a visit to a brewery cannot be forgotten. Slow beer, sustainable beer and enjoying tastings and platters at South Africa's only carbon neutral beer brewery! Learn all there is to know how they do this.
Evita's Perron
Make another stop in Darling for a treat for those with a sweet tooth.
You can't miss the Tannie Evita Bezuidenhout Museum – dedicated to this lady who had such an influence on Apartheid-politics through her angle of humoristic criticism. It is part of Evita's Perron, founded by Tannie Evita and recently featured on the tv show 'In die Sop'. In one episode famous chef Bertus Basson redesigned the restaurant and the menu. You're in for treat!
In this one week you will have seen the two oldest towns of South Africa in a completely new light and different way than other travellers do. We can't wait for you to come and discover the secrets of Cape Town and Stellenbosch!
Map of the tour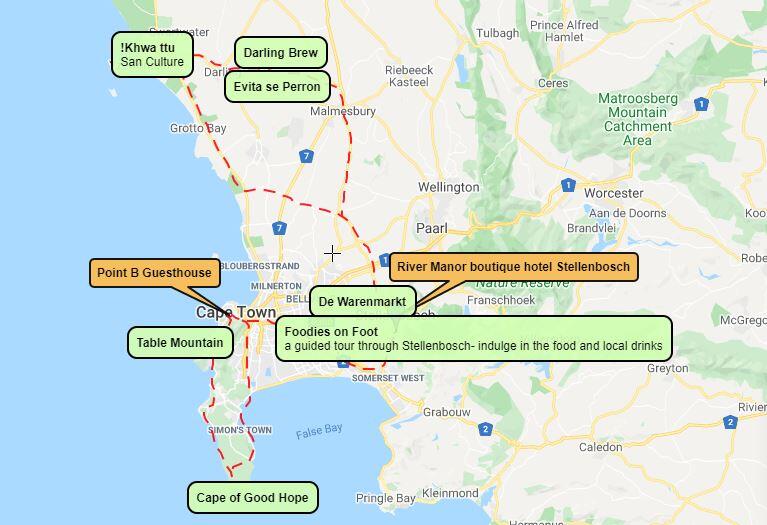 Bespoke private experiences
Use our unique tours and experiences as a source of inspiration for your exclusive holiday. Tell us what you like and what you don't like in this tour, or any particular tour that speaks to you. Or let us know in general what experiences you would like to have. Based on what you tell us we'll make a bespoke, unique tour for you. We'll keep adjusting the itinerary, accommodations and way of travel until you have YOUR perfect holiday. Your exclusive experience of a lifetime.
This is experiential travel at its best. Nothing is set in stone, all can be combined, adjusted, changed to make your own bespoke holiday! Here are some more ideas to inspire you.
Want to know more? Read how it works. On everything we do for you, our Terms and Conditions and our Privacy Statement are fully applicable.